Equipment introduction
---
Thisequipment is high speed continuous type packing machine, suitable for automaticpacking of products such as modulator tubes, plastic wraps, silicon papers,aluminum foil boxes and so on; it possesses advantages such as convenient forstyle shifting, high efficiency, stable performance, high cost performance andso on.
Characteristics & advantages

---
1. It has widely absorbed manufacturing technologies and experiences of European and American equipment, been researched and developed based on the national conditions in China, thus has best cost performance with same performance;
2. To suit characteristics of domestic cartons, symmetric two-way box opening is adopted to ensure stable box opening for any carton;
3. The whole line is equipped with European glue spraying system and high precision coder counting, assisted by high flow hot melt adhesive filtering device, thus is able to apply adhesive precisely, stably and reliably;
4. Devices such as sensing element, photoelectricity, mechanical overload protection and so on compose monitoring, alarm and failure displaying system; moreover, protection measures such as not supplying carton without product, not spraying glue without carton, alarm for insufficient box feeding, automatic stop for continuous product omission or overload and so on are set to ensure safe operation of the machine;
6. It is able to be equipped with automatic feeding auxiliary device for both online feeding and box type feeding.
7. It has large packaging range; it is convenient to be adjusted, and is able to quickly shift among different specifications and sizes; fully mechanical linked working method with compact structure and reliable performance;
8. Combines box opening, loading, box folding, glue spraying and box sealing; equipped with full automatic high speed hot melt adhesive machine combined with imported Spanish MELTON glue gun cooperated with precise counting by coder and decoder, the glue spraying system is stable and precise.
9. It can be equipped with labeling machine, code sprayer, online mass-meter and other production lines produced to fulfill linked production;
10. Each station or motion is equipped with anti-crashing and displacement detection device, making the operation more safe and reliable.
11. Good universality, suitable for small edge folding boxes in different quantities, and can also designed and transformed to equipment with same packing process according to your requirements;
Working process
---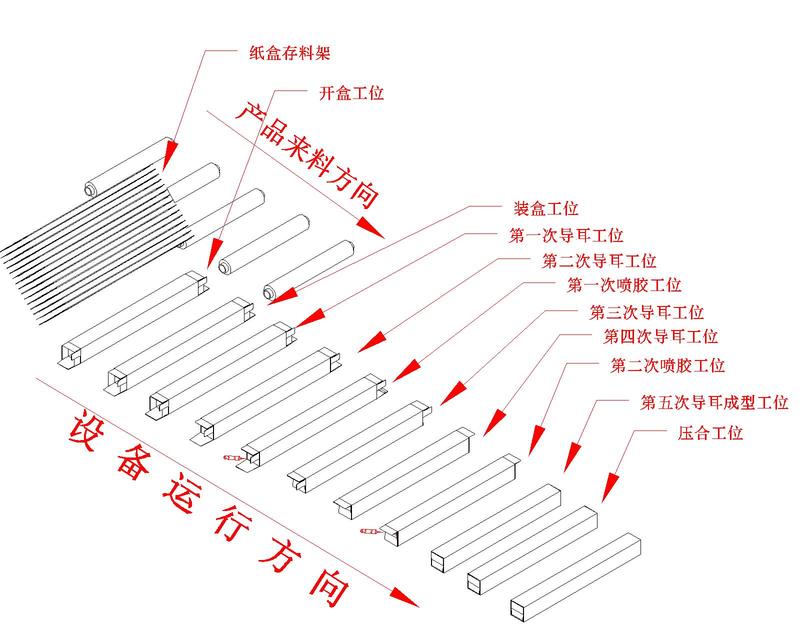 ---
Video demo (Cannot play video please click here)
---
Equipment application case exhibition
---