Equipment introduction
---
Thisproduct is a further improved new machine of our Company based on advancedtechnologies home and abroad; it is high-tech product combined with integrationof machine, electricity, gas and light.This product is suitable for packing andpackaging of aluminum plastic medicine plates, medicine bottles, oral liquid,medication pastes in pharmaceutical industry, masks, cosmetics and variouselectronic products, daily necessities and so on, as well as similar articles;it is able to complete works such as folding of operation instruction, openingof carton, packing of articles, printing of batch No., sealing and so on.Themachine can be used independently, or form production line together with otherequipment;
Characteristics& advantages
---
1. The machine adopts PLC man-machine interface control system. Its transducer, servo motor and pneumatic elements are all in internationally famous brands.
2. Instruction book will not be released and boxes will not be supplied without product; no box will be absorbed without instruction book.
3. Automatic alarm or stop if no carton or if products have not been packed.
4. Air pressure and vacuum protection stop; the main transmission has overload protection device.
5. Box absorption adopts turntable continuing type which has high success rate and rapid speed for opening and forming of cartons;
6. Full synchronizing mechanical arm is adopted for continuous material feeding, obtaining quick feeding speed and stable operation;
7. Man-machine interface displays packing speed and counting automatically.
8. Adopt self-lubrication system to make the operation more stable.
9. The machine body adopts high quality stainless steel, combined with stoving varnish and aluminum, complying with GMP standards;
Working process
---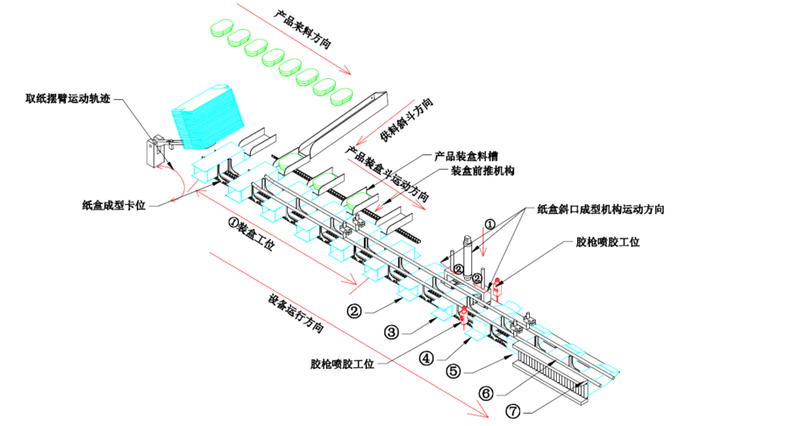 ---
Video demo (Cannot play video please click here)

---
Details
---
---
Equipmentapplication case exhibition
---