Equipment introduction
---
  This equipment is packing machine specifically developed for superlongcartons. It is suitable for automatic packing of products such as fluorescenttubes, auto wipers and so on; it possesses advantages such as convenient forstyle shifting, high efficiency, stable performance, high cost performance andso on.
Characteristics & advantages
---
1. It adopts twisting type box opening method which can make the forming of cartons which are difficult to form easier;
2. It combines box opening, loading, box folding, glue spraying and sealing; it is equipped with advanced full-automatic high speed double-spray gun hot melt adhesive machine with compact and rational structure, simple operation and adjustment;
3. The box sealing system possesses functions such as automatic box opening, twisting, automatic glue spraying, box sealing and so on; it is able to complete the packaging flow automatically and rapidly;
4. Servo motor, PLC programmable control system and man-machine interface display operation are adopted, making the operation more clear and simple with higher automation and humanization degree;
5. Adopting imported Spanish MELTON glue gun cooperated with precise counting by coder and decoder, the glue spraying system is stable and precise.
6. Protection device for insufficient motion is adopted; instruction book will not be released and boxes will not be supplied without product; no box will be absorbed without instruction book; each station has alarm prompt for lack of material; thus the operation is safe and reliable;
7. Good universality, suitable for small edge folding boxes in different quantities, and can also designed and transformed to equipment with same packing process according to your requirements
Working process
---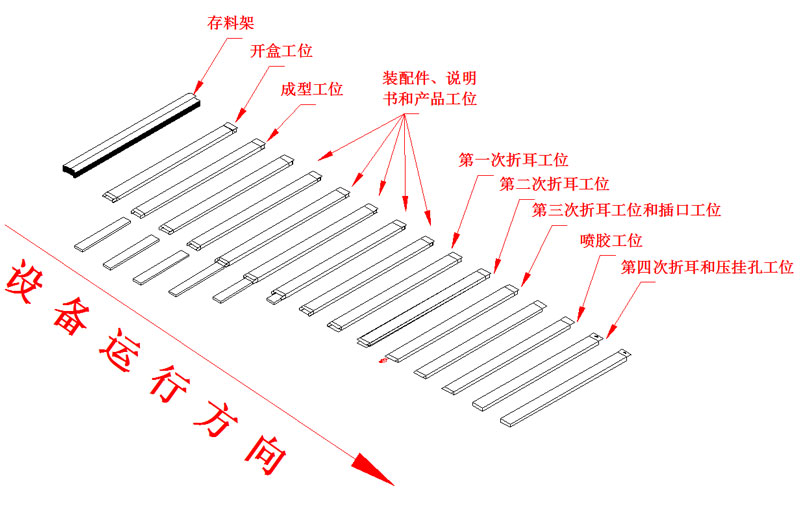 ---
Video demo (Cannot play video please click here)

---
Equipment application case exhibition

---