Equipment introduction

---
Thisproduction line is specific for drawing type double-medicine plate automaticpackaging line researched and developed directionally for famous pharmaceuticalcompanies in China; this packaging method is domestic initiative;
Thisequipment is able to supply paper card, stack OPP association, spray hot meltadhesive from four stations automatically; it is able to place instructionpaper card and double-plate convenient medicine sticking plate automatically;it adopts drawing type medicine plate automatic packaging method which foldssingle paper board automatically into box; the whole line adopts servodrive,PLC and man-machine interface for control; there are up to 140 displacementdetection and automatic tracking systems; it possesses functions such as alarmand notice for lack of material, power supply, air supply abnormity andfailure, as well as delayed automatic stop; it is simple in operation with goodstability.
Characteristics & advantages

---
1.Innovative automatic paper board folding and packing and new drawing typeconvenient packaging process production line are still initiative in China;
2.The whole line adopts multi-axis servo for operation positioning to ensurestable operation and high reliability;
3. PLC programmable control system and man-machine interface displaymake the operation more clear and simple with higher automation andhumanization degree;
4.Each station or motion is equipped with anti-crashing and displacementdetection device, as well as functions such as alarm and notice for lack ofmaterial, power supply, air supply abnormity and failure, and delayed automaticstop, making the operation more safe and reliable.
5.This equipment is special equipment for cartons in different sizes but samepacking method; our Company can modify equipment with same packing processaccording to your requirement;
Working process
---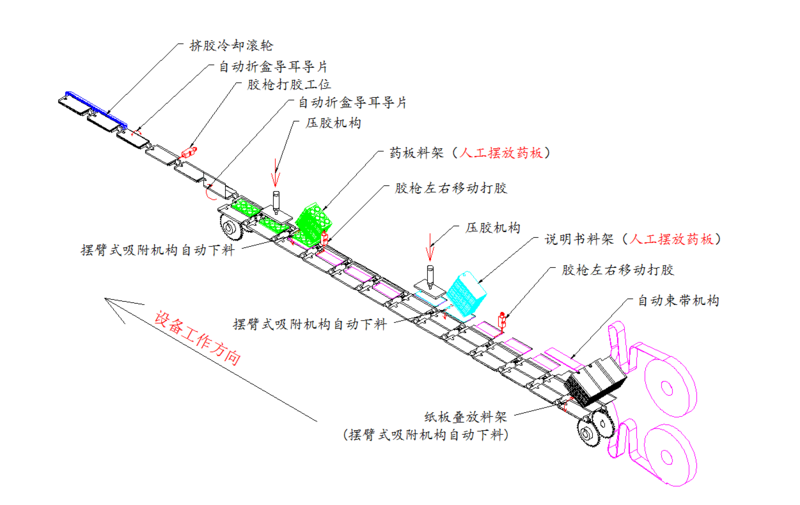 ---
Video demo 1 (Cannot play video please click here)

---
---
Video demo 2 (Cannot play video please click here)
---
Equipment application case exhibition

---