Equipment introduction
---
This production line is a frontprocess for drawing type double-medicine plate automatic packaging productionline directionally researched and developed for famous pharmaceutical companiesin China; this packaging method is brand new and domestic initiative;
This equipment possesses automaticmedicine carrier feeding, double-station roll coating of non-setting adhesiveeasy to be torn up or pasted, automatic hot melt adhesive dispensing andspraying for two-station eight joint packaging, automatic drawing and secondarymedicine plate pasting on two faces; the whole line adopts servo driving, PLCand man-machine interface control, multi-station displacement detection andautomatic tracing system; it has functions of alarm and notice for lack ofmaterial power supply and air supply abnormity and failure, as well as delayedautomatic stop; it has simple operation and good stability.
Characteristics & advantages

---
1. Innovative paper board automatic folding packing; front process of drawable convenient packaging process production line; it is domestic initiative;
2. The whole line adopts mechanical and servo motion positioning with stable operation and high reliability;
3. PLC programmable control system and man-machine interface display make the operation more clear and simple with higher automation and humanization degree;
4.Each station or motion is equipped with anti-crashing and displacement detection device, as well as functions such as alarm and notice for lack of material, power supply, air supply abnormity and failure, and delayed automatic stop, making the operation more safe and reliable.
5. This equipment is special equipment. Our Company can also design and transform equipment with same pasting process according to your requirements;
Working process

---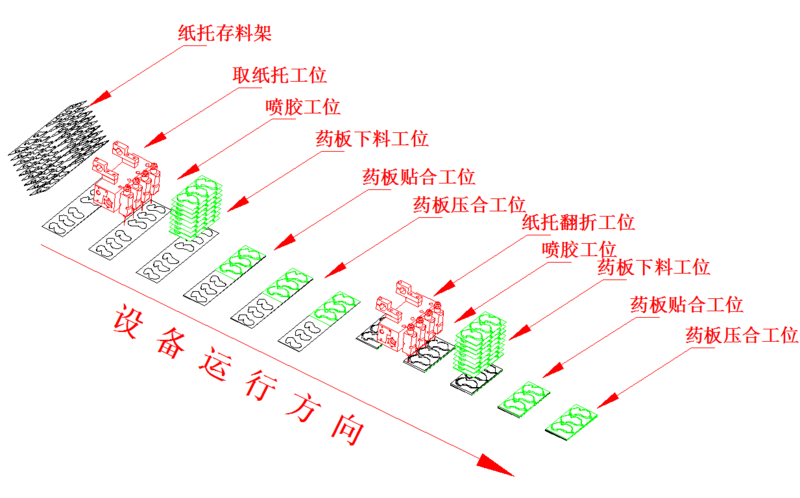 ---
Video demo 1 (Cannot play video please click here)

---
---
Video demo 2 (Cannot play video please click here)
---
Equipment detail exhibition

---
---
---
Equipment application case exhibition

---