Equipment introduction
---
This machine is automatic boxfolding machine directionally researched and developed for packaging boxes forairplane shaped mobile power; it is a equipment possessing processes such asautomatic paper feeding, box folding, glue spraying, lamination and forming,exporting finished carton and so on; it adopts mechanically and electricallysynchronous and automatic continuous working manner, PLC and man-machineinterface control to obtain smooth operation and stable quality;
Characteristics & advantages

---
1. The whole machine is controlled by PLC man-machine interface; it adopts chain type continuous operation principle, thus ensures stability of the high speed operation.
2. It combines paper sending, pre-folding, forming, glue spraying, box folding and exporting with simple operation, low failure rate, high automation degree and low manpower requirement.
3. Adopting imported Spanish MELTON glue gun cooperated with precise counting by coder and decoder, the glue spraying system is stable and precise.
4. Box folder adjusting system adopts manual adjusting. Customers can adjust the folding mechanism manually according to carton sizes; style shifting among carton sizes is convenient and time efficient.
5. It is set with automatic reminding function for insufficient paper storage;
6. This equipment is specific for cartons in different sizes with same folding method. Our Company can also design and manufacture equipment with same folding process as required by customers;
Working process
---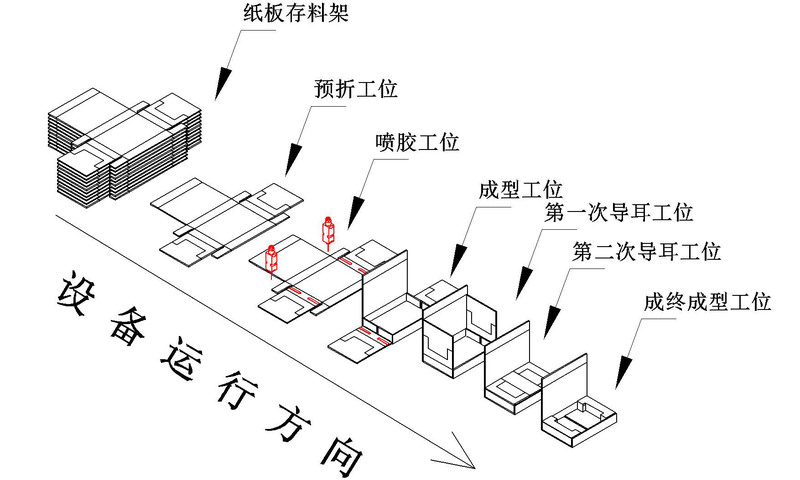 ---
Video demo (Cannot play video please click here)
---
Equipment application case exhibition
---